The UK's top online shopping stores
Shopping online has grown astronomically in popularity. Being able to find virtually anything, without having to traipse around numerous shops, even when it's tipping it down or freezing cold, makes online shopping one of the best ways to get your hands on the item you're looking for. Add to this the ability to shop all over the world, at just a few clicks of a button, and you're onto a winner. A uk parcel forwarding company opens up the possibilities even further. They make ordering from another country, like the United Kingdom, even more accessible for people all over the world.
When you sign up for a free account, forward2me will give you access to the very best online retailers in the UK and can get them delivered to your doorstep. You can even use our UK Guernsey warehouse for tax free shopping in the UK.
With this in mind, we want to showcase the variety of excellent online shops you'll gain access to, so we've put together the top online shops in the UK. You'll find the top UK brands, a few of the lesser known UK brands and then the UK outlets of some of the biggest brands in the world.
Top brands for UK online shopping
There are a number of UK online stores that are true household names. Many of these run online-only businesses too, so you can only get your hands on their products by ordering online. These are some of the UK's favourite online brands.
AO is an online tech goliath in the United Kingdom. They specialise in household appliances, white goods and other electricals. Get your hands on the very best washing machines, fridges, TVs, consoles and audio equipment. They often have discounts or deals on selected lines and they offer clearance sales too on certain stock.
A stalwart of the UK high street, Argos have long been famed for their catalogue-style warehouse approach. Despite the physical catalogue itself announcing its retirement in 2020, they are still going strong. They offer an extensive range of items from toys and technology through to furniture. You'll find brands as well as bargains on offer here.
They use a warehouse approach with a storefront, so were already well set up for an online ordering approach.
The fashion juggernaut stocks nearly every high street fashion brand imaginable. Here you'll find clothes for all ages across womenswear and menswear. There are brands like Adidas, Nike, Pull & Bear, Farah, Levis, Weekday and many, many more including designer brands and a selection of ASOS own brands. Prices start low, making it a very affordable way to shop.
There's also ASOS Marketplace which offers the opportunity for smaller businesses to sell their own items through the site.
The fast-fashion behemoth BooHoo offers a vast array of women and menswear clothes and accessories. Primarily aimed at a slightly younger audience, BooHoo offers stylish clothing at incredibly affordable prices. Whether you're after a new dress, swimwear or a whole new outfit you'll be able to find something without breaking the bank. You'll find new styles available constantly.
Missguided slots in alongside BooHoo, offering affordable but stylish womenswear items. Their clothes are always fashion-forward and are primarily aimed at 16-35-year-olds. You'll find dresses, shoes and other accessories alongside the occasional fashion collaboration with brands like Playboy. They have new edits all the time and a constant collection of new arrivals.
Debenhams was one of the UK's largest department store chains, with locations across the country. Now they solely trade online. They offer a collection of household brands across fashion, technology, beauty and homeware. Brands on offer include Calvin Klein, Birkenstock, Hobbs, Regatta and more. They're a great place to shop for electricals, home, furniture and gifts & toys too. It's always worth checking out their sale if you're after a bargain.
Lesser known brands for UK online shopping
Many of the UK's biggest high street retailers have excellent online stores. You'll find almost everything they stock in-store alongside online exclusive deals and items. There are excellent brands offering high quality cosmetics, cutting edge electricals and clothes to help you restock your wardrobe.
Boots is a popular high street chain offering everything you'll need from a pharmacy. They sell over the counter medication alongside a selection of beauty and cosmetic items. This combination makes them an excellent choice when you're shopping for any of these items, whether you're after plasters, pain relief, allergy tablets, shampoo, conditioner, hair dye or make up they've got you covered. They've got a loyalty card too if you want to gather points.
The tech superstore Currys PC World offers just about every kind of technology you can imagine. Whether you're after a new computer, a MacBook, DSLR, printer or oven. They've got a range of smart tech, TVs and audio items too. Essentially they've got one of the biggest ranges of electronics in the UK and should be your first port of call when shopping for the latest tech in the UK.
George at ASDA is the well-known supermarket's clothing brand. The respected supermarket branched out into fashion a couple of decades ago and their budget approach to essential clothing has been incredibly popular. You'll find excellent ranges of womenswear alongside menswear and highly affordable children's clothes. George at ASDA is well worth checking out if you're hunting for a bargain.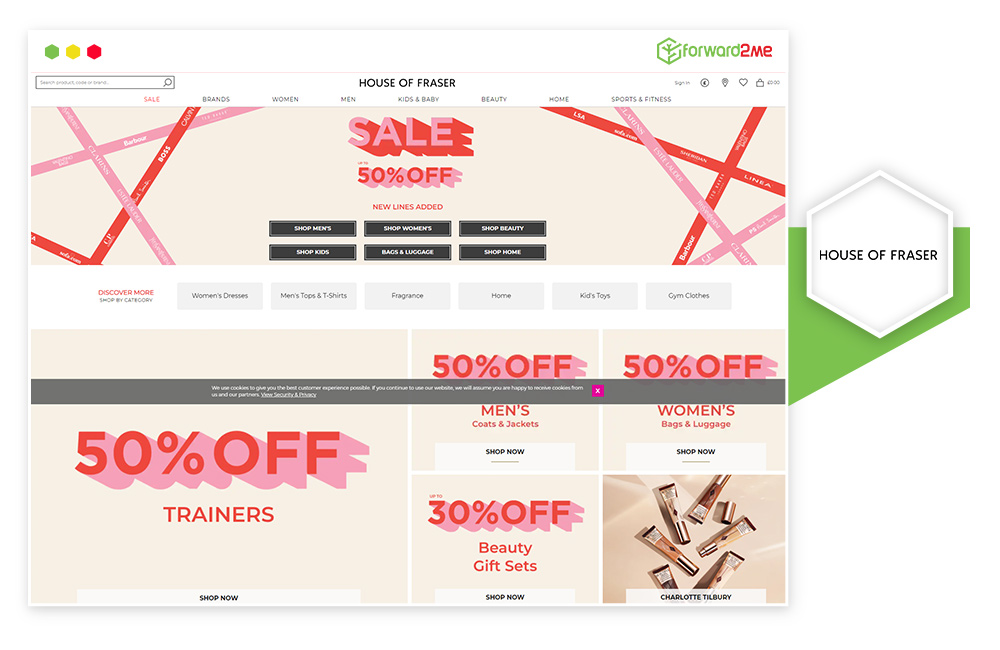 Another of the UK's excellent department stores. Here you'll find everything from designer fashion through to homewares, beauty and technology. Whether you're after a new outfit, a tv stand or a brand new vacuum cleaner, you'll be able to find it at House of Fraser. Brands available include Levis, Diesel, Ted Baker, Superdry, DKNY and Whistles, plus many more. They've often got a sale running too, which is worth keeping an eye out for.
Jessop's tagline 'image is everything' lets you know exactly what you're in for. They specialise in everything photography related, whether it's the latest DSLR from brands like Nikon and Canon, or more specialised video equipment and drones. You'll find camera accessories and other items like projectors for sale too. Jessops is a well-respected camera seller in the UK and is well worth checking out.
One of the UK's most famous retailers, they often make a stir with their infamous Christmas ads. As a department store, they stock items across home, technology, fashion and more. They are known for the quality of the items they stock, as well as the range. As a British institution, they can be relied upon for excellent customer service in addition to the quality of their products.
Starting out as a humble market stall and now a British institution, Marks & Spencer offers an array of fashion and home items along with food. All items are their own brand, but they have a number of different sub-brands for womenswear, like Per Una and Autograph. For menswear, they're known for their functional but affordable clothes including their tailoring. In terms of house items, you'll find simple furnishings and accessories for all the rooms in the house.
Matalan is a department store that leans towards affordable fashion and homeware. You'll find a large range of womenswear & lingerie alongside menswear, kids clothes and homewares. They're known for their affordable prices and it's a great place to shop for people looking to outfit their family. There are great deals to be found on their homewares too.
Next are a highly respected clothing company that also offers footwear and home items. It's the largest clothing retailer in the UK and offers a wide range of womenswear, menswear and children's clothing. They are particularly well known for their sale, with many queuing for the in-store sales. They're known for their good quality clothes at affordable prices. You'll find everything from loungewear through to workwear, outfits for hitting the town and suits and dresses for more formal occasions.

With an extensive range of sportswear, sporting goods and sports fashion, it's a great place to look whether you're after something comfy for around the house or the latest kit from the team you support. The added bonus is that the prices on offer are very budget-friendly. You can get your hands on brands like Nike, Under Armour and Adidas at accessible prices, along with equipment for a variety of different sports.
UK versions of well-known brands
Many of the world's biggest brands and ecommerce platforms have made themselves at home in the United Kingdom too. Brands like Amazon, Nike and Apple are incredibly popular, as is the auction site Ebay. Each of these companies has a strong presence in the UK:
Amazon is one of the biggest online retailers globally, and their UK branch is no different. You'll find pretty much everything you could imagine available. From books, designer clothes and sports gear, to the latest tech and all the way through to home items and DIY tools, you'll probably find what you're looking for at Amazon UK. A number of sellers only ship within the UK too, so you may be able to find items unavailable in your own country, like some of the UK's best baby formula.
The ever popular smart technology creators have a large presence in the UK. You'll find all of their smartphones, tablets, smartwatches and accessories available on their online shop. Plus you'll be able to book yourself in for a Genius appointment if you're in the country. Buy your iPhone, TV or headphones right from the source.
The UK branch of the famous auction website is filled with excellent products across a range of niches. As the items for sale are entirely user-generated, there's really no end to what you'll be able to find. From big brands opting to sell their own products through to people selling their pre-loved goods, there's a good chance that if you want it, it'll be there. While many items are put up for auction to the highest bidder, many also have the option to 'buy now' for a fixed price. There are some great bargains to be found, as well as unique items and collectables.
If you're after some of the very best sportswear and Athleisure then shopping at Nike is a no-brainer. The American company are known for their high-quality trainers and clothing. With a number of limited-run collections and collaborations, it's worth keeping an eye on the UK site if you're considering getting your hands on something exclusive or simply buying a new pair of Nike trainers.
The Chinese clothing shop offers womenswear, mens clothing, nightwear and accessories at low prices. You'll be able to fill your shopping bag with clothing for girls, boys and adults. They often do online exclusive collabs with major designers and constantly have deals available.
TK Maxx is the UK edition of the popular American department store TJ Maxx. Their aim is to sell designer clothes and other home accessories for less than they'd usually be available at. This means that their stock is ever-changing and well worth checking out, as you may find some quality items available at bargain prices, whether you're after a new dish for the kitchen or a dress for a night out.
How to shop online in the UK
Shopping at the UK's biggest websites couldn't be simpler. If you're based outside the UK you can shop at UK stores with confidence when you forward your packages through forward2me. It just takes a few simple steps:
Step 1 - Sign up for your free UK shipping address
Signing up for forward2me is completely free! When you sign up you'll get your free UK forwarding address and have access to a number of other forwarding addresses too.
Step 2 - Start online shopping in the United Kingdom
Just go to your favourite online store in the UK, place an order and use your forward2me address for delivery at checkout.
Step 3 - We receive your parcel
When your parcel arrives with us, you'll get a notification. We'll double check it's something we can send.
Step 4 - We ship your parcel
At this point you just need to choose your courier options and whether you want us to hold it while we wait for other items to arrive. Once you've chosen your courier and paid your bill we'll get it shipped to you.
Step 5 -Your parcel arrives with you
Just put your feet up and wait for your order to arrive. Remember, each country has different custom duties and you may need to pay something at the border! You'll need to sign for your goods when they arrive at your destination.
Shopping at the UK's biggest websites couldn't be simpler. If you're based outside the UK you can shop at UK stores with confidence when you forward your packages through forward2me. It just takes a few simple steps:
If you're after something specific from the UK, then we're here to help. We have put together a number of buying guides so you can shop with confidence in the UK, whatever you're trying to buy. If tech's your thing, then check our guide on the best Apple products, our budget camera guide or our overview of Alexa enabled devices. If you want to know what to expect from Prime day, we've got you covered, and if you're after a new Fossil watch or the latest camping gear we can help with that too.
Is it difficult to shop online in the UK?
Absolutely not. Once you've discovered the very best online stores that the UK has to offer, you'll be ready to shop with confidence. If you're unsure how it works when you're shopping in the UK and having your items forwarded, check out our guide.
To make it even easier, we've even created a special combine & repack service to help you save money and order from multiple retailers at once. Whether you're just ordering from one retailer or a number of shops, we can combine & repack your orders into one shipment.
We can hold your package for 30 days free of charge, then combine multiple orders into one package to save you on shipping costs!
forward2me makes online shopping in the uk so easy.
Top online stores in other European countries
While your forward2me account gives you a UK shipping address, you'll also be able to access a European forwarding address in Germany too.