Top online stores in Austria
Right in the heart of Europe, Austria is perfectly placed for exporting and shipping high quality products across the whole of Europe. As experts in package forwarding, we're familiar with the very best online shops in Austria and we specialise in helping people outside Europe shop there with our european parcel forwarding service.
When you sign up to forward2me you'll get a completely free European shipping address that will let you shop online in Austria and forward your orders around the world. To get you started we've put together a list of the best online stores in Austria.
Amazon Germany covers both Germany and Austria. The website is one of the biggest retailers in the world, offering a mix of their own products and a platform of independent sellers.
You can literally find anything on Amazon.de from books and technology to DIY and car parts. We've put together an extensive shopping guide for Amazon.de to help you navigate everything the site has to offer.
The fashion site is one of the best across Europe, offering unrivalled access to the biggest fashion brands and labels. They literally have hundreds of brands all under one roof.
Shop menswear, children's clothes, women's fashion and accessories from huge brands at excellent prices.
The online Austrian department store at universal.at is here to help you find everything you need for day-to-day living. There's an extensive online catalogue of household, fashion, furniture, garden, sports and technology available.
There's so much shopping to do and it's easy to see why universal.at is an Austrian favourite.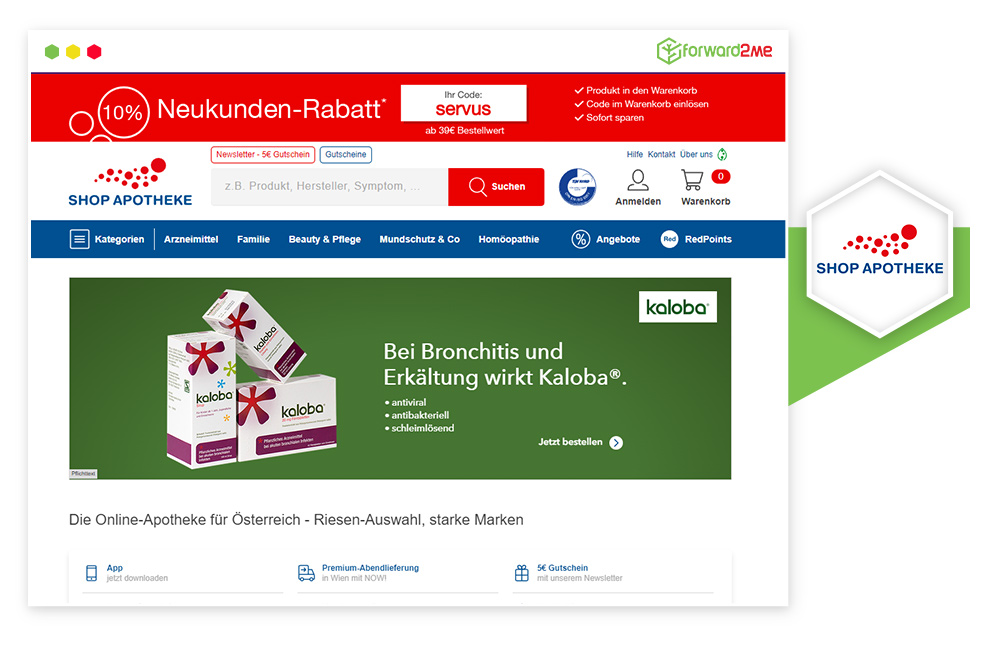 The online pharmacy offers a wide range of nutrition, beauty, hygiene, dental and healthcare products to people throughout Austria. It's a great place to stock up on natural remedies, medications and beauty products.
With this in mind, there are a number of items that we may not be able to forward through our European warehouse, so if you want to shop at Shop Apotheke in Austria you should check our prohibited item list.
OTTO is a well known online store in Austria that specialises in all your lifestyle shopping needs. They have extensive collections of clothing for men, women and children as well as underwear and suits. They are well stocked for sports and leisure items too with swimwear, activewear and sports equipment well covered.
You'll also find a good range of brands, technology and homeware available on OTTO, making it a great place to shop.

Find every piece of technology you could ever need on Media Markt. They stock household appliances, cameras and consoles as well as computers and smartphones. Media Markt is even one of Austria's trusted Apple consultants, so you can buy with confidence.
This well-known brand, is a leader of the crystal cut jewelry. The vision of the founder Daniel Swarovski to create "a diamond for everyone" is still valid even today. Nowadays the Austrian company produces products such as glass sculptures, miniature, jewellery, rhinestones, home decor and chandeliers.
Known worldwide for their innovation and smart technology, Apple is popular in Austria too. Their Austrian online store stocks all the latest iPhones tablets and smart devices. Shopping in Austria lets you get your hands on some of the very best Apple technology and accessories and we can help you forward it around the world.
Stock up on your favourite technology and hardware from Austria's e-tec.at. The site is known for its excellent ranges of tv, audio and household equipment plus tools and lighting.
It's a little more on the techy side of media, as you'll find chipsets and modding items for your computers and consoles.
Another of Austria's excellent tech stores, you'll find everything from Apple's latest smartphone through to Notebooks, PCs, gaming accessories and smart home devices It offers an extensive selection of the best technology in the world.
Shop in Switzerland and ship worldwide with Forward2me
Shopping online in Austria couldn't be simpler. Here's how easy it is to shop on Austrian websites and ship your orders worldwide with forward2me:
Step 1 -Sign up for your free European shipping address
Signing up for forward2me is completely free! When you sign up you'll get your free European forwarding address and have access to a number of other forwarding addresses too.
Step 2 - Go online shopping in Austria
Just go to your favourite online store in Austria, place an order and use your forward2me address for delivery at checkout.
Step 3 - We receive your parcel
When your parcel arrives with us, you'll get a notification. We'll double check it's something we can send.
Step 4 - We ship your parcel
At this point you just need to choose your courier options and whether you want us to hold it while we wait for other items to arrive. Once you've chosen your courier and paid your bill we'll get it shipped to you.
Step 5 - Your parcel arrives with you
Just put your feet up and wait for your order to arrive. Remember, each country has different custom duties and you may need to pay something at the border! You'll need to sign for your goods when they arrive at your destination.
Combine and re-pack multiple orders into one shipment
We have a special combine & repack service that we've created to help you save money when you're ordering from more than one place. Whether you're just ordering from Austria or a number of places in Europe, we can combine & repack your orders into one shipment.
We can hold your package for 30 days free of charge, then combine multiple orders into one package to save you on shipping costs!
Top online stores in other European countries