Top online stores in France
At forward2me, our European parcel forwarding service makes it easy to shop with online retailers in France from the UK, USA, and worldwide. Browse through any online store you like and deliver unique brands, fashion, shoes or electrical equipment straight to your doorstep via our European warehouse.
We've put together a list below which covers the best online shopping sites in France. Whether you're looking for beauty products, clothing, shoes, accessories or electronic equipment, you can find almost anything you need online.
Top 5 electronics stores in France
Explore what Europe has to offer and shop for electronics in France. Purchase a brand new television or find the home appliance you need on sale.
Amazon.fr
Part of the Amazon chain, explore a wide range of electronics on Amazon.fr, including smartphones, games consoles, computers, and security cameras.
The company also sells various other products, including cosmetics, fragrances, books, games, clothing, bags, gifts and more.
Apple.com
Discover the latest Apple product releases on the French Apple.com. The online store stocks the iPhones, iPads, Apple watches, Macbooks and iMacs, with some older models available.
Pick between different colours and specifications or shop accessories for your iPhone or Mac.
Cdiscount.com
Cdiscount.com supplies home electrical appliances such as washing machines, technology, food, games consoles and other items. You can also shop from a range of refurbished and second-hand items at a discount.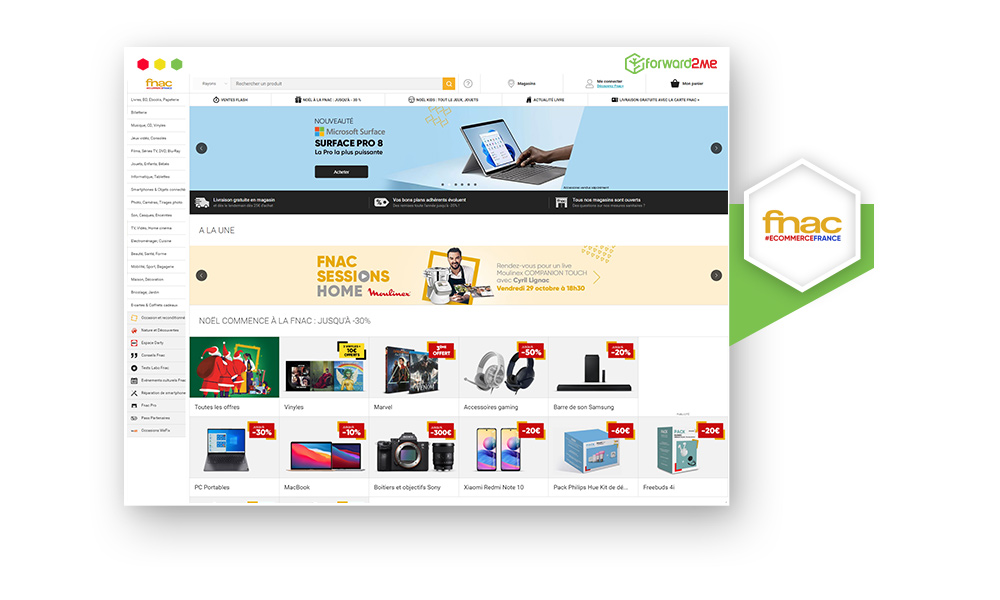 Fnac.com
Large online retail store Fnac.com specialises in electrical equipment and other cultural goods such as children's toys, music and home decorations. Find everything you need, from refurbished laptops to the latest video game releases, on their marketplace.
Auchan.fr
Auchan.fr is part of the renowned French retail group and stocks everything from teleworking equipment and home appliances to televisions and other high-tech electronics. You can also search for food and drink products, fashion, sports and outdoor gear.
TOP 5 ONLINE FASHION RETAILERS IN FRANCЕ
If you enjoy searching for the latest fashion and cosmetics, there are some fantastic online shopping websites in France to browse through. Find a wide variety of fashion brands, and shop in style from fashion retailers such as Yves Saint Laurent, Fila, Calvin Klein and Hugo Boss.
Veepee
French retailer Veepee.fr runs flash sales and discounts on leading fashion styles, including bags, shirts, dresses, accessories and more. You can find endless designer labels and fashion brands with up to 70% discounts.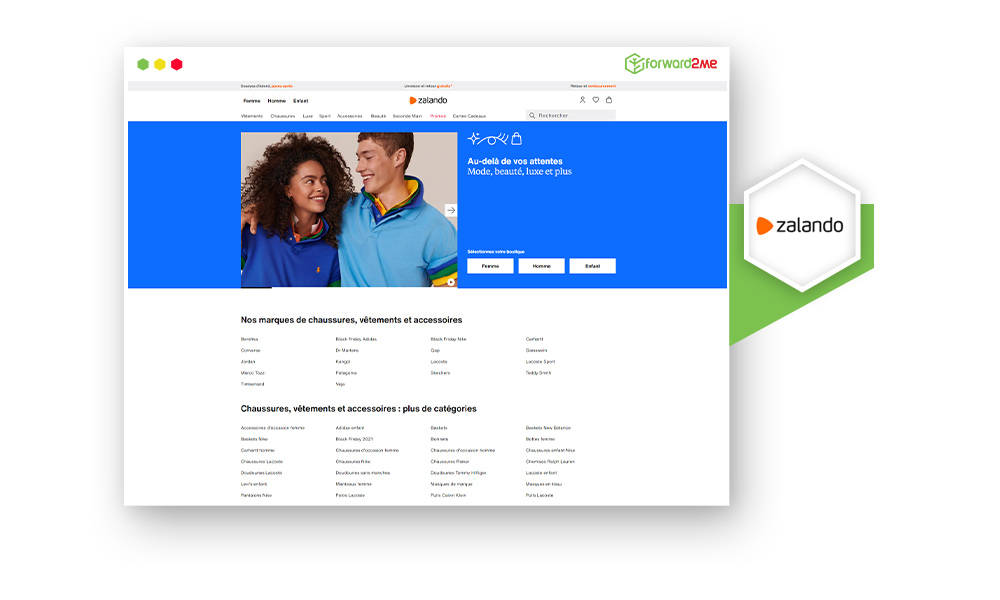 Zalando.fr
Explore more than 200 brands on Zalando.fr and shop for the latest fashion, shoes and beauty products. Some of the brands available on the website include Nike, Lacoste, Calvin Klein, Levis, and Michael Kors.
Showroomprive.com
If you're looking for unbeatable fashion deals and flash online sales, Showroomprive.com is the retailer for you. Set up an account and look through their collection of clothing, accessories and beauty products for discounted prices.
laredoute.fr
Laredoute.fr is one of the leading fashion and home e-commerce retailers in France. Shop clothing for women, men, babies, children, and teenagers. They also specialise in responsible fashion as well as second-hand clothing.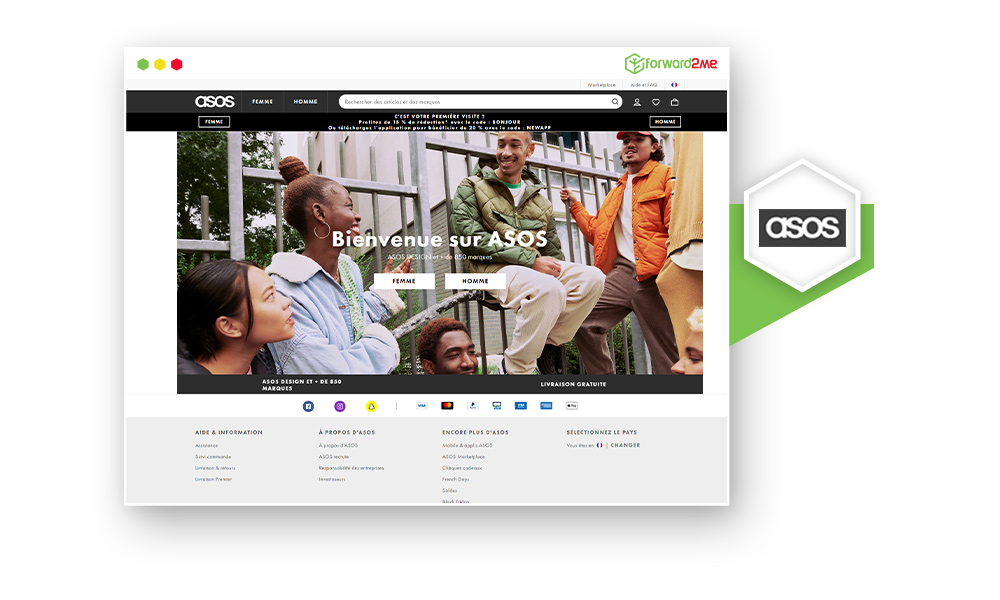 asos
You can buy clothes, beauty products, cosmetics, accessories and shoes for women and men from the online shopping marketplace asos.fr. Branded and own-brand clothes are available, and asos own-branded items are available in 30 different sizes.
TOP ONLINE STORES IN OTHER EUROPEAN COUNTRIES
SHOP IN FRANCE AND SHIP WORLDWIDE WITH FORWARD2ME
Forward2me ships items worldwide for you, making it easier than ever to do shopping online in France. Follow our step-to-step guide to start your journey:
Step 1 - Sign up to receive your Forward2me UK address
Start by signing up to forward2me. Once you've set up your account, you'll be given your personal European forwarding address.
Step 2 - Purchase your online shopping
Visit some of the best online shopping sites in France and order the goods you want. Make sure to use the European forward2me address as the delivery address.
Step 3 - Your parcel arrives with us
Once your parcel reaches us, we may check any contents to ensure they are safe and legal to ship. We will send an email to you confirming your package has arrived. Your responsibility is to make sure all items being shipped are legal and safe for deportation into your country.
Step 4 - Forward2me ship the parcel
To pay for shipping and choose a preferred courier company, log in to your account. You can make payments using PayPal, a bank transfer or a credit card. We will typically ship the same day for payments made before 11:00 am CET time (workdays only).
Step 5 - Enjoy your parcel
After shipping, your parcel will arrive at your address, and you'll need to sign for this. Delivery times depend on the courier and local customs processes, but it typically takes 1-4 working days from the depot dispatch date. There may be customs duties to pay, but this depends on the destination country.
COMBINE AND RE-PACK MULTIPLE ORDERS INTO ONE SHIPMENT
Even if an online retailer offers international shipping, Forward2me can help if you're shipping multiple items from the same store. Forward2me offers a combine and re-pack service to consolidate various items into one package.
If you place more than one order, we can hold your items at our forwarding warehouse for up to 30 days. These orders can either be re-packed or consolidated into one shipment, saving money on expensive shipping fees.