Top online stores in Poland
Wherever you live, the possibility to shop around the world and find home comforts, rare items or essentials is important. For many, shopping online in Poland gives them access to deals or items they miss from home. At forward2me we help people the world over shop online in Poland and forward their items to them.
With this in mind, we've put together the top ten Poland online stores so you can discover some of the very best places to shop. Once you've found your items, you can have them forwarded to you via our European forwarding service. So without further ado, here are our recommended online stores for Poland.
RTV EURO AGD is one of the biggest online stores in Poland, specialising in electronics, technology and household appliances. You'll find everything from small vacuum cleaners and wine coolers through to the latest smartphones and tablets.
They have 304 stores across Poland, as well as their excellent Polish online store, making them a great place to fulfill your tech needs. Grab a new console, TV or cooker from euro.com.pl today and we'll help you forward it.
Zalando is a European powerhouse, offering affordable fashion from a wide range of brands in countries all over the continent. Zolando.pl is no different, you'll find clothes and accessories from hundreds of huge brands.
Find shoes from Dr Martens through to clothes from Topshop and Topman. There are literally hundreds of household brand names on offer, making it easy to find something you'll love across menswear, womenswear and accessories.
On mediaexpert.pl you'll find a wide range of tech and household accessories. There's a wide range of items on offer from an extensive collection of LEGO through to household appliances and TVs.
It's a Polish store that's well known for its variety. It's a great collection of fitness items like bikes and weights alongside back to school, computers, tablets and the like all in one convenient place.
Bonprix is a German company is well known for its selection of fashionable but affordable clothing, with stores across Europe. The online store in Poland is no different. You'll find on-trend womens clothing, menswear, kids clothes and a selection of home items. It's well worth checking out.
Doz is a well known pharmacie in Poland and the online store offers the opportunity to order medication, vitamins, medical equipment and cosmetics online. There's an extensive range of healthy, beauty and hygiene products alongside parenting, contraception and natural remedies.
There are a number of items on Doz.pl that may fall into our prohibited items list so double check before you put an order in!
Zara is an international fashion retailer offering high street fashion at accessible prices. You'll find them on every high street in most major cities, and they've got a great selection of items available on their Polish webstore.
Shop for fashionable womenswear and cutting edge menswear in Poland and get them forwarded around the world.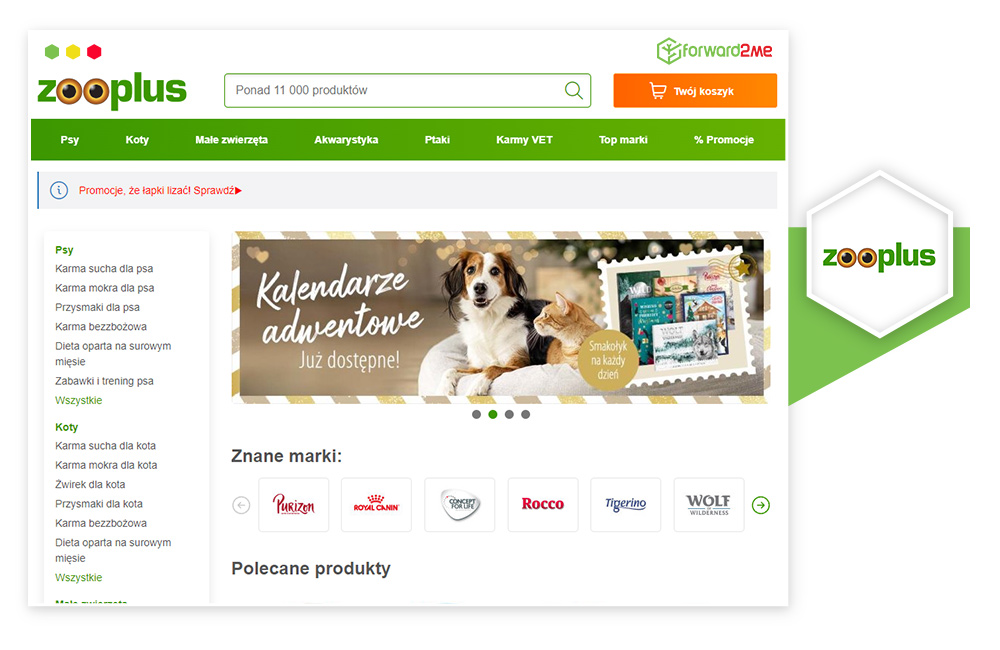 Your one-stop-shop for pet and animal needs. Here you'll find dry dog food and treats alongside cat litter and toys for both cats and dogs. You'll find everything you could possibly need for your four-legged friends at zooplus.
If cats and dogs aren't your thing, you'll find items for smaller animals, birds and fish too! Just make sure that what you order can be forwarded through our warehouse.
X-kom.pl is a well known Polish technology store offers everything a techy could need. While it has a great range of consoles and smartphones it also specialises in computer parts, chips and accessories to help you customise your computers.
Find a range of smart home items, electric scooters and new laptops on offer too.
IKEA is one of the world leaders in furniture and household products. With giant stores and showrooms the world over they also over excellent home delivery opportunities in countries like Poland. Find unique storage solutions, beds, shelves, desks and more from Ikea Poland and ship them around the world.
Apple is a global leader in smartphones, tablets and other smart devices. Their online store in Poland is no different and you'll find all of the latest technology available to order. Shop online for Apple products in Poland and we can help you forward them to your final destination.
Shop in Poland and ship worldwide with Forward2me
Shopping online in Poland couldn't be simpler. Here's how easy it is to shop on Polish websites and ship your orders worldwide with forward2me:
Step 1 - Sign up for your free European shipping address
Signing up for forward2me is completely free! When you sign up you'll get your free European forwarding address and have access to a number of other forwarding addresses too.
Step 2 - Shop on your favourite Polish online store
Just go to your favourite online store in Poland, place an order and use your forward2me address for delivery at checkout.
Step 3 - We receive your parcel
When your parcel arrives with us, you'll get a notification. We'll double check to make sure it's something we can send.
Step 4 - We ship your parcel
At this point you just need to choose your courier options and whether you want us to hold it while we wait for other items to arrive. Once you've chosen your courier and paid your bill we'll get it shipped to you.
Step 5 - Parcel arrives on your doorstep
Just put your feet up and wait for your order to arrive! Remember, each country has different custom duties and you may need to pay something at the border! You'll need to sign for your goods when they arrive at your destination.
Combine and re-pack multiple orders into one shipment
We offer a special combine & repack service that's been created to help save you money! While we know that some businesses offer international shipping, that can be expensive, so if you are ordering from several different places, we'd recommend checking our combine & repack service.
We can hold your items completely free of charge for up to 30 days and either combine & repack or consolidate. Whichever option you choose, you'll be able to shop from multiple Polish or European stores and combine them into one shipment, which could save you considerable costs on international shipping!
Top online stores in other European countries