Where to Buy Homeware in the UK
There is no bad time to buy something for the home, especially at that time of the year we all start looking for different kinds of homeware. That's normal, the temperatures are getting lower and with that we tend to spend way more time at home. The major retailers are also aware of it, so at the moment their websites are definitely a place to visit, if you want to add something to the cozy atmosphere of your home. You will be amazed by the colorful array of products and the stunning deals. The UK market has a lot to offer and thanks to forward2me's international parcel forwarding service, these high-end products are available worldwide.
Whether you feel the urge of revamping your home entirely or just looking for some small additions that will prepare you for the festive season, this guide is for you! To make it easier to navigate we have separated it into a few sections. Even if we have related a brand to some specific category, bear in mind that they stock all kinds of homeware. Pretty much all of the mentioned websites offer such a wide variety of products, that we believe it won't be hard for you to create the desired look and feel for your home. Here are few more uk homeware retailers that we definitely recommend you to visit.
SOFT FURNISHINGS
WHERE TO BUY BEDDINGS FROM THE UK
The idea of staying in bed during a rainy day (and we have a lot of them here in the UK) is so charming, especially if you have some soft and warm duvets. You can literally get drawn into different offers if you start searching on Google for them. To make that choice easier, we have selected some legit retailers. Something to keep in mind is that all products you see will be with UK sizing, so make sure to double-check if it fits your needs.
First will start with John Lewis, the seasonal offers have already started. One thing that will make you say "WOW" is that they have a virtual personal shopping experience that you can book completely for free. According to the company they get all your questions answered, how cool is that? At John Lewis you will be able to find not only beddings but also all kinds of stuff for your home, so you definitely should check it out!
The second place you definitely should visit is Made.com. It's dedicated entirely to things for the home. Their high-end designs actually have some really nice price tags. At the moment a huge trend is the nordic-inspired styles (thank us later). Its bedding selection includes some remarkable designer bedspreads and quilts.
Another company that combines a wide range of soft furnishings is Cox & Cox. For the past 19 years they have been producing unique and eclectic products. Their blog is an absolute source of inspiration, so it's worth visiting.
ORDERING CURTAINS FROM UK
The curtains carry that huge potential to change entirely the atmosphere of the room. They take significant part in each interior design project. For that section, our attention is drawn to the selection of another highstreet retailer - Marks and Spencer. Here you can find a selection of easy-to-hang ready-made curtains. If you are looking for some different looks and patterns, have Made To Measure curtains and blinds. So, all you have to do is choose an eye-catching fabric that will fit perfectly the look of your place and send them measurements.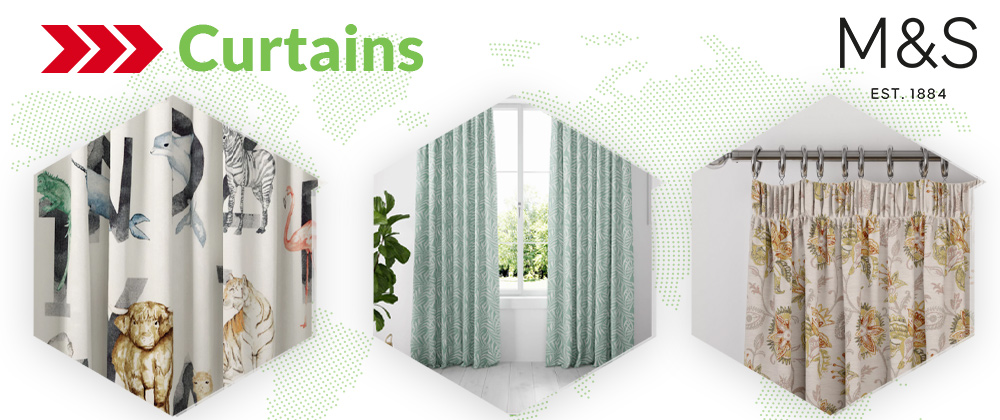 Interesting suggestions that are gentle to the wallet could be found on WayFair.co.uk. The daily deals and outlet section will help you to find something with top quality on a decent price.
We'd suggest you to visit the curtains section of one of the beloved brands in the UK - Habitat. Established in 1964, the company impresses with extraordinary and innovative designs inspired from different places across the globe. Their designers are doing a great job with each collection released.
GREAT OFFERS FOR CUSHIONS FROM UK RETAILERS
When we talk about cushions, we follow the rule - the more is the better. For us the concept about the perfect chill day at home wouldn't exist without a few soft and cosy cushions. The people from The Range understand it and they have gathered under one roof all things you need to help you relax.
Another place that definitely deserves to be on your list is Dunelm. They stock a huge range of cushions for the living room and for bedrooms. As you know, it's not all about the comfort, the cushions are a focal point in each interior design project. It's really important how you will combine them with the rest of the furnishings and decor.
Something that might come as a surprise is that H&M also offers a huge variety of cushions. They have some interesting seasonal suggestions.
ORDERING A MATTRESS FROM THE UK
While we are dreaming of a day filled with relaxation and chill vibes, we can't imagine doing that on an uncomfortable mattress. We all want it to feel like we are laying on a cloud.Is a better way to go from the UK's most awarded mattress? Yes, that's right, the brand is called Emma Mattress and they are confident about the quality of their products for a reason. The products come with a 10 years warranty. They even went a step further, by offering a trial of 200 nights (at least at the moment we create that blog)! We can't imagine returning a mattress we have slept on comfortably for 200 nights. Before you order a mattress from the UK make sure to learn more about our large item shipping options. If you have any questions, our customer support will be more than happy to assist you!
RECOMMENDED LIGHTING RETAILERS
People on the island are lucky to have some brands dedicated entirely to lamps and lights. As you know these products have become really important in recent years not only in terms of utility but also as a significant part of the interior design. When you open a website like Lightning Direct you can find everything from easy to fit garden lights, to DIY lights and all kinds of lamps.
The other site that we want to mention is lights.co.uk, it's a place where you can easily find everything you are looking for. We will just use the Floor Lamps as an example showing the extensive reach of products they offer. Under that category they have 1800+ options. The other thing that is an absolute trend is the smart lighting.
ACCESSORIES
BUYING RUGS ONLINE FROM THE UK
The soft and warm rug definitely has a place in your home especially during the winter season. The cosy feeling that they deliver and the warmth to the feet, makes them probably the most popular floor covering option. The place we would suggest you to visit is Rugs Direct. We are pretty sure that you will be able to find something that fits your needs and budget. Something that adds to the great user experience is that you can search by colour or by room.
WALL CLOCKS
Another great addition to the home decoration nowadays are the wall clocks. There are so many stylish options that could easily fit the different interiors. Some designers also use them to create contrast. The place we highly recommend you to check is the website of Maisons du Monde.
ART AND MIRRORS
These are the things that feed our eyes and soul. The mirrors could be used as an expression of creativity if you decide to go for an abstract combination or some interesting pattern. The walls of your home could become a real masterpiece. You will be able to find them in most of the above mentioned homeware brands but based on our taste we would recommend you checking these two Dwell and West Elm. If you are looking for inspiration, just visit Dwell's instagram profile, you won't regret it.
Last but not least, comes the best part, once your wish list is ready, you can combine all your orders into one parcel and save a lot from delivery fees using our UK parcel forwarding service! Learn more about our combine and repack service.
HELPFUL INFORMATION: