Shop Designer Fashion from the UK
Everybody craves for some designer clothing from time to time. Even if you are not a big fan of a given brand, every now and then you wish you could walk around town with a fresh new designer coat or shoes. It can prove difficult to find the items you really like. Premium designer brands are often a target of people that produce "knock-off" items that imitate their products, on top of that, whenever a praised designer puts out a new collection, it is not largely available on the market. Usually, those items are sold fast and in boutiques or events owned and organised by the designer.
Good thing there are many retailers in the UK, where you can shop for designer clothing and accessories online using our UK parcel forwarding service! Today we are going to list some of the biggest retailers, where you have a chance of scoring a deal on premium designer products.
Where Can You Shop High-End Designer Fashion in UK
Net-A-Porter comes immediately to mind when you think about a UK fashion retailer. This website was launched back in 2000 and is one of the biggest, if not the biggest, retailers in the UK. The best thing about them is that they have new items uploaded on the website twice per week and you can choose from more than 800 different brands. This is just astonishing on its own, here you will find names such as Dolce & Gabbana, Comme des Garçons, Chloé, Alexander McQueen and many others. You can easily arrange for a shipping address in the UK
Next on the list of luxury retailers, we have FARFETCH. The interesting thing is that the platform was created in 2007 and launched in 2008 but to this day it grew exponentially. It has a variety of items from more than 1000 fashion brands. Some of the names you will find here include Dsquared2, Burberry, Fendi, Gucci, Valentino and many others! The company also sells designer furniture and other premium items. With numerous connections between them and other brands and organisations, FARFETCH is on the run to create the online store of the future, which is why it also invests into technology innovation.
For those that appreciate high fashion, but have a taste for streetwear, as well, FLANNELS is your place. The retailer opened its first shop way back in 1976 and grew ever since that point in time. Here you can find well-known classic brands like Saint Laurent and Balenciaga alongside Off-White and Stone Island. The flagship store of the brand is located in London and luckily for all of you around the globe, their online shop is top-notch!
Zadig & Voltaire is actually not a retailer, it is its own fashion brand. It was created back in 1997 in Paris and quickly gained recognition thanks to its edgy models. Even if you don't have access to a brand store you can easily shop online at Zadig & Voltaire's online shop. Apparently, this is where 70's rock meets modernism as the brand claims.
Mytheresa started out as a luxury fashion retailer and cemented its reputation throughout its 30 years of existence. It widened its commercial base in 2006 by setting up its online extension. In the online shop, you can find around 250 luxury brands and the tip of your fingertips and 1200 new products each week. Some of the recognisable names in their designer section include Jimmy Choo, Gianvito Rossi, Moncler and Loewe. More than 700 employees take care of your fashion needs, giving you styling advice, answering every question and arranging your shipments.
MATCHESFASHION gives you a unique look over global fashion. It provides the products of more than 650 brands, from established names newcomers with a fresh look over high fashion. The brand has numerous exclusive shopping locations, but its online store and app reach to millions around the globe. MATCHESFASHION is the place where you can find a unique blend of style, the one that suits you best. Selling styles from the collections of The Row, Ganni and Christian Louboutin, this online shop definitely deserves your attention.
Designer Fashion in Department Stores
These days you can find quality high fashion items virtually everywhere. Department stores are usually connected with low price items, usually shopped in bigger quantities, therefore lower price. Back in the day, it was unthinkable to search for a quality exclusive product in such places, but today this all changes. Here a couple of department store brands, where you may find your new best designer outfit.
House of Fraser is one of the department stores with the richest history. It marked its humble beginning back in 1849 when it was a just a drapery store located in Glasgow. Throughout its existence of more than 150 years, the company grew and became one of the biggest retailer names. They have, virtually everything in stock and high fashion items are not excluded. They even acquired some of the brands like Dickins & Jones, Rackhams & Cavendish House. In House of Fraser you can also find some popular British brands like Ted Baker and Chi Chi London.
Selfridges is the name of a department store that started as a small business back in 1906. It was opened by a gentleman named Harry Gordon Selfridge, who is praised as a charismatic man that really had an idea on how to build a great retail business. To this day the company carries his name and ideas. Selfridges is actually the only department store that won "Best Department Store in the World" four times. And as Harry Selfridges once said, "Everybody is welcome!".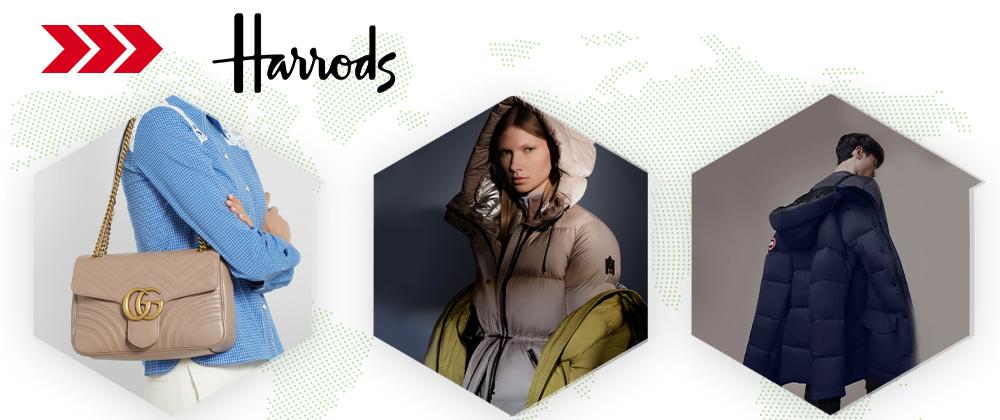 Harrods is another one of those bespoke names when it comes to business. The company runs numerous businesses from retail stores, jewelries and many more. The iconic Harrods estate, located in London has become a major site in the city with millions of visitors every year. The store was opened back in 1824 and was offering drapes, linens and other various goods. High fashion items, of course, are not excluded and the online store of Harrods has its own category for fashion lovers. Give it a visit, your next find might be right behind the next click.
Best Places for Discounted Designer Clothing
Premium products usually come at a premium price. This is what stops some of us even thinking about shopping for those bespoke brands we hear about on TV shows, movies and glossy magazines. However, it turns out that with the oversaturation of the markets, we can in fact find a high fashion item that can fit almost every budget. Here is where to look for those deals.
BrandAlley is a member-only store for fashion items. The best thing about BrandAlley is that all of the listed items have a discounted price. You are only required to create an account and start shopping. Your next favourite PRADA bag might be enlisted on there and you just have to share your email address to snatch it off the virtual shelves. BrandAlley stocks also choices of Gucci and Guess.
Our next stop for discounted fashion is Zalando. Zalando is the place to find High Street fashion, designers clothing and fresh new brands, all in one place. What sets this retailer apart from other is that it claims it has Europe's largest selection of clothing, shoes and accessories online. Put their words to the test and browse the website.
TK Maxx, one of the most recognised retail brands worldwide. The brand is part of TJX Europe and has multiple stores across Europe, the UK and Ireland. If you are living in a country that the brand has not reached, yet, don't worry! Shop from the online store! This retailer has such a presence across the globe that it's bound to have something in stock for everybody! The brand claims that it can provide its customers with premium designer products at prices up to 60% less than the RRP and at a significant discount to the prices in a department store or on the high street. You have to put that to the test, right?!
We know that many of you are using forward2me's services for export and business. You probably already recognize the benefits of having some exclusive fashion brands in your portfolio. Check out where to buy your favourite fashion brands online with our guide rounding up the best UK online shopping stores.
This could get you a step ahead in the competition and thanks to our UK Tax-Free warehouse you could save 20% sales tax.
For more shopping inspiration, check out our shopping center.
Helpful information: