How to Buy Car & Motorcycle Parts from eBay Germany
If you're looking for the highest quality and best selection of car parts available online, then Germany is a great place to look. We see a large number of car and motorcycle parts coming through our warehouse and many of these are bought via eBay Germany. The auction website offers an incredibly diverse range of car & motorcycle parts, with completely new parts and pre-owned components available.
We understand that sourcing the very best parts for your vehicle is important to you. In some cases parts for older motorcycles and cars may not even be available on the new market anymore, and that's where eBay Germany comes into play.
eBay Germany is a global marketplace selling auto parts. With so many of the world's biggest and best manufacturers calling Germany home, it's also no surprise to see such a high standard of car parts on eBay.de.
Whatever you're interested in shipping, whether it's an exhaust pipe, tire trim or a smaller part for your brakes, eBay Germany has you covered. Many eBay.de sellers don't offer international shipping, especially for larger car parts, and that's where we come in. We give you access to your very own German forwarding address and let you shop on eBay.de for car parts or anything else that takes your fancy, making online shopping in Germany so easy.
Here's how it works:
Step 1: Sign up for your free German address
It's easy to get going. Just sign up for your very own German forwarding address with forward2me.
Step 2: Shop on Ebay.de for your Car or Motorcycle parts
Browse to eBay.de, translate it if you need to, and go to the eBay Motors section. Simply browse through the categories to see the existing inventory or search for the item you need in the search bar. While you'll find many auto parts available to buy instantly, many may require you to bid in an online auction. Auctions can be a time consuming process but can also give you access to some real bargains.
Once you've secured your item, just add it to your basket, check out and enter your German shipping address.
Step 3: We receive your parcel
When your parcel of parts arrives at our German warehouse you'll receive a notification. We can hold your items for free for up to 30 days, so if you're expecting several orders to come in we can hold it then use our consolidation or combine & repack service.
Step 4 - We ship your parcel
Once you've picked your courier and paid your fees we'll send your parcel right to you. If you sort everything before 11am local time we'll get it out that day too.
Step 5 - Your parcel arrives at home
Then you just need to wait for your German motorcycle or auto parts to arrive. This can be as fast as 1-4 days, but can be longer depending on the service you select and the place you're delivering to. Make sure you're familiar with your local customs laws too, as some may require you to pay import fees.


eBay Germany car parts & motorcycle categories
eBay Germany's automotive category offers the ability to shop by vehicle manufacturer and brand. They have parts for cars, motorcycles and every other type of vehicle you can imagine. As eBay.de is a marketplace you;ll find a number of online sellers in one place. It breaks everything down into the following categories
Auto spares & repair parts
This includes a number of sellers offering auto parts like brake parts, body parts, suspension parts, engines and electronics.

Attachments & accessories for the car

Here you'll find items to kit out your interiors alongside learner plates, trailers, emergency kits and theft protection.

Motorcycle accessories
While these may not be essential for the day to day running of your motorbike, they're still important. Find luggage cases, stickers, headsets, stands and weather protection for your bike.
Car tires, rims & accessories
This category includes everything you need for your wheels and tires. You'll find pressure monitors, hub caps, tires, wheel covers, snow chains and rims.
Electronics, GPS & safety technology for cars
Your car has so many electric parts and accessories. Buy car entertainment systems, GPS, dashcams and parking aids. There are even defective radios available for hobbyists.
Motorsport clothing & protective gear
Shop for essential helmets and protective gear for your motorcycle, plus automotive accessories like track jackets, merchandise, key rings and cups.
Motor vehicle oils, care products and lubricants
If it's a liquid and related to your car, you'll find it here. This includes motor oil, antifreeze and more. Keep in mind that we may not be able to ship certain items from this category, more on that later.
eBay Germany Motorcycle parts
Keep your motorcycle running perfectly with replacement parts. You'll find fairings, frames, ignition parts, fuel systems and exhausts alongside handlebars, grips, footrests and pedals. It's your one stop shop for German motorcycle parts.
Automotive tools
The category where you'll find your maintenance needs fulfilled. There are tools, battery chargers, air compressors and whole tool kits available.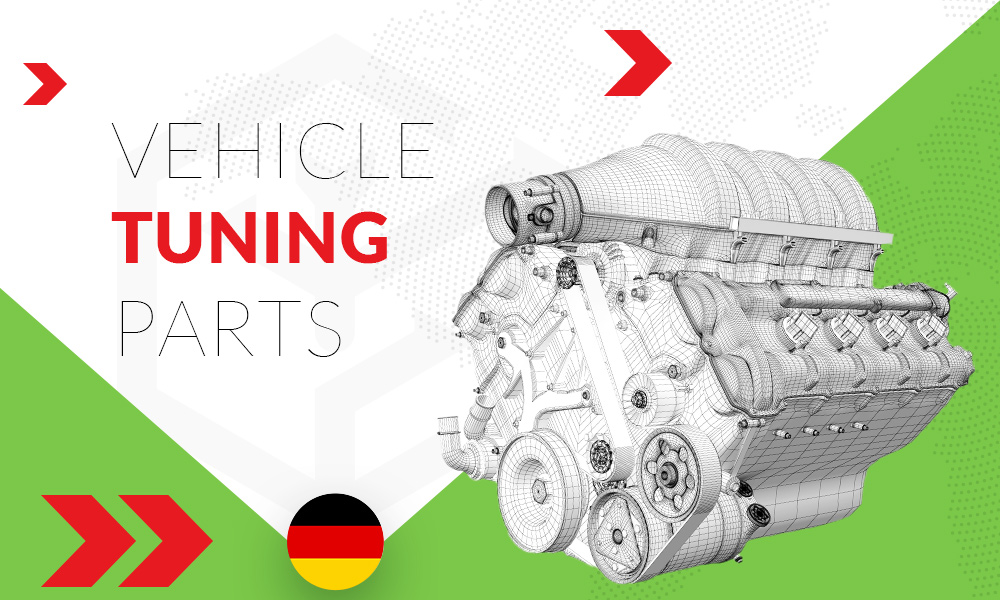 Vehicle tuning parts
If you're looking to upgrade your motor or make your car look sharp, this is the category for you. You'll find car electrics, exterior styling, lights, sport suspension, glow systems and other body modifications. Keep in mind that anything over 120 cm in length or over 31.5 kg will require individual quote.
What car and motorcycle parts can you send from our German facility
This incredible selection of sellers and categories may well have you excited and ready to restore a vintage car or simply repair your current auto. We see so many parts coming through our warehouse and the main items we see coming through include:
Brakes

Clutchers

Bearings

Exhausts

Gauges

Kick starts

Kick stands

Tyres & wheels

Belly pans

Decals & ornaments

Forks

Mirrors

Protections

Seats

Tail tidies
While we will ship them, some items need to be completely drained and dried before they're posted to us. These include:
What car and motorcycle parts you can not send from our German facility
Before you proceed with your purchase we'd always recommend you check our prohibited list. While we can ship most auto parts there are a number of related items that may be restricted.
We can't ship anything that contains liquid. This means you won't be able to ship any motor oil, lubricants or antifreeze. Some vehicle parts, like engines or gearboxes, can be shipped but they must be completely drained and dried beforehand. In some cases they need even to be steam cleaned with an accompanying certificate to confirm this. If you are planning to buy gas struts or shock absorbers, keep in mind that they are also classified as dangerous goods and cannot be shipped by air, our advise is to talk to our customer experience team before making your order.
Shipping car and motorcycle parts from Germany - How it works
All you need to do is register for your free German address. It's really that simple! If you're unsure about how it works, we can help guide you through the process. If you're unsure how much it'll cost, check our pricing page for a quote. There you'll also be able to find out about the couriers available for your country.
If you're in the market for motorcycle parts we can ship motorcycle parts from the UK too, and if you want to shop in Germany for auto parts, any eBay.de is too limited, we can help there as well.