Buy Sportswear, Street Fashion & Sneakers from the UK
It's really fascinating how urban fashion is no longer just about clothing and style. Nowadays, when you wear a particular brand, you relate yourself to a group of people, sharing similar thoughts and vision. One of the reasons why street fashion and footwear has become a cultural thing, is because it allows you to have to have that unique and distinguished style. A style that allows you to express yourself. There is a similar appeal, when we talk about abroad shopping, you can get your hands on some exclusive items that will be really rare in your country.
The UK fashion industry has to offer a wide variety of brands and retailers and we are pretty sure that you will be able to find something that fits your taste! In this article we will share with you some of the most popular. We have decided to split them in 3 separated groups - Sportswear, Street Fashion and Sneakers. So, let's get started!
top deals for sportswear from the uk
When talking about UK sports clothing and accessories there is one name that always comes to mind - SportsDirect. This website claims to be the UK's â"–1 sports retailer, which is completely possible, considering it's part of the Frasers Group. If you are trying to find something good for its price, this is the place to visit! It's hard to believe but you can easily find Nike, adidas, Puma or Reebok for like 50% cheaper, compared to other online shops. People are speculating what could be the reason for this difference, so it's hard to say.
The good news is that these low prices are not related to bad quality. The only downside is that you won't be able to find the latest trend and most hyped items cheaper (and again this totally makes sense). So, if you want to save some money and still wear some of the most popular brands, you should check out SportsDirect.
Next is a retailer with multiple stores across the United Kingdom and solid online presence. It finds a place on our list, because here you can find hundreds of popular brands including The North Face, Converse, Asics and Under Armour. The wide palette of products covers all kinds of sports from swimming and hiking to golf and even dancing. On their website you will find that next has its own line of sportswear
The next big name we will talk about is Zalando. The e-commerce brand is covering 17 European markets and claims to have Europe's largest clothing collection. The UK website offers a nice and smooth user experience. Some of the popular names you will find in the brand section are Calvin Klein, Jack & Jones, Tommy Hilfiger and Polo Ralph Lauren. It's good to know that Zalando is one of the retailers that frequently has huge sales, so you might want to subscribe for email updates from them.
POPULAR BRANDS FOR STREET FASHION
Street Fashion has an interesting influence on people, it's one of the fashion industries where some particular brands have turned into a real cult.
One of these brands is Supreme. The new collections traditionally drop on Thursday, and they are getting sold out immediately. On the physical locations you can sometimes see hundreds of young people queuing and waiting for the doors to open. Like every other superhype, it's hard to understand how it has become such a cult, but it's a fact. There are not many brands with such complete allegiance from its loyal fans. A little history, it all begins back in 1994 when James Jebbia opened its first store in New York, it had the label "for skaters by skaters", and one of the coolest parts (in our opinion) was that you could literally skate in the spacious store, because all the clothes were next to the walls. Another key to their success is the simple approach of their designs - "never make it again". Just visit their website, and you will understand what we talk about.
Another great brand started with the skateboarders in mind and turned out into something really special. We talk about Palace, if you are into street fashion, you have probably seen the huge triangle logo with Palace written on each side. You might see it on shirts worn by Jay-Z, Rihanna and many other popular faces. Similar to Supreme, Palace only produces a small run of each design, which makes them even more special.
If you are looking for something more accessible and not that expensive, you should check out boohoo! It stays on the opposite side of Palace and Supreme, dropping over 500 new products a week! They got styles that will inspire you, boost your confidence and help you follow your individual style. One of their missions is to make fashion accessible and fun, so every girl can get the wardrobe of her dreams. They also offer a wide selection of male clothing.
SHOP SNEAKERS TRENDS FROM THE UK
Talking about sportswear and street fashion, can't go without giving some special attention to the footwear. We have selected 3 different retailers, where you will be able to find from low class kicks up to exclusive and limited edition sneakers.
The first company we want to highlight is JD Sports, which is one of the UK's biggest sporting goods retailers. It's an interesting place to visit not only because of the mindblowing variety of products but also because they launch raffle access to some of the upcoming exclusive sneakers. On the official website you can find Air Jordans, adidas originals, Champion, BOSS, FILA, puma and many others!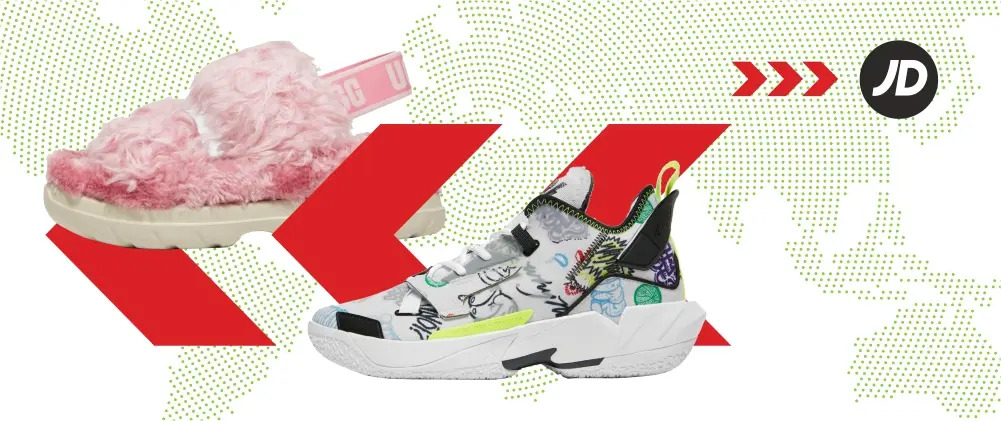 One of our favorites is Footlocker, except all the products they have in stock, they often release some limited edition models, available exclusively for them. On their website you can find a release calendar which is really helpful, because like we explained earlier, the more limited a product is, the demand for it is increased, so it's not that easy to cop some exclusive models.
The last but not least in our list is Footasylum. Similar to the above mentioned retailers, it also offers thousands of different sneakers, here you can find a huge outlet section. They also run some huge clearance sales.
We hope this article will help you find your own and unique style. If you want to save some money, when shopping abroad, learn more about our tax-free warehouse and UK parcel forwarding service. Shop with -20% sale tax if you are not a resident of the EU.