FORWARD YOUR PARCELS FROM
Online shopping from another part of the world might become mission impossible even nowadays if the stores do not ship to your country. In this case, forward2me has your back. Use our parcel forwarding service to reship all the goods you've bought from to your doorstep.
HOW THE PARCEL FORWARDING WORKS
Shopping abroad is now easier than ever with our parcel forwarding service. Once you register an account with us, you have the chance to shop from every online store in and then ship your goods to the address provided by forward2me. When your package is delivered to our warehouse, you can have it reshipped immediately to your home country or keep it in storage for up to 30 days for free. During this period, you can ship as many more packages as you'd like to your forward2me address and have them all sent as one parcel.
Combine and repack is a very popular and useful feature we offer to our customers. It helps you save money on fees and receive all your goods on the same day, so you don't have to free up your schedule for courier appointments. Once the parcel is dispatched from our depot, it will arrive within 1 - 4 days, but keep in mind that this is an average arrival time and it might take more days to receive your goods because of the courier company or other factors which are beyond our control.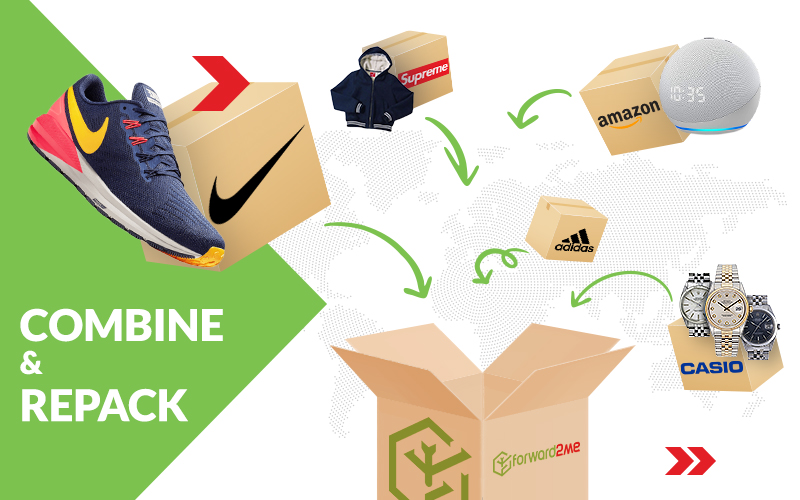 BENEFITS OF PACKAGE FORWARDING SERVICE
Your favorite brand doesn't ship to your country? Or the international package shipping rate is higher than what you can afford? There are infinite reasons why you can't buy the stuff you want from . Lucky for you, forward2me is here to help you. Take a look at some of the advantages of the service:
FREE shipping address - once you sign up, you get a shipping address completely for free to use worldwide. And guess what - there is no monthly fee for it.
Save money on shipping fees - international shipping costs might be quite expensive. Why pay extra when you can ship for free to your forward2me address and then reship to your country? In this case, you pay only one delivery fee.
Access to different online stores in - using a parcel forwarding service gives you the opportunity to shop from different online stores in .
DON'T JUST TAKE OUR WORD FOR IT
FedEx International Priority
Quick and easy!
Quick and easy! For whatever reason there's a fifty character limit on this textbox.

United States of America

GIULIANO LO IACONO
02/12/2022
VERY GOOD SERVICE!
VERY GOOD SERVICE!

Germany

Always get my package in a timely matter
They do a great job at getting you your package fast

United States of America

Customer experience
Very quick responses and towards addressing customer's raised issues. Happy with the consistent good support

UK to US
Great value, everything was protected with bubble wrap. Very happy with my experience

United States of America

Excellent Service
Package arrived promptly and it good shape. Email communications were answered quickly and helpfully.

United States of America

FedEx International Priority
Fast and easy
I'm very pleased with this service and how quickly I received my package.

United States of America

Customer experience
So, this business was mentioned to me by a friend. I had no idea what to expect and was scared I was going to get scammed or something. THIS WAS NOT THE CASE. The delivery of my package to F2Me was quick. Their emails with information was timely, and their delivery options to the U.S. were reasonable. I set mine for two-day delivery on later Monday evening, and my package was delivered by Wednesday afternoon. It came in great condition and was triple packaged to ensure security!! :) I am so so so pleased with my experience and cannot wait to use them again, as well as recommend to friends. Forward2Me, thank you so much for a great service, great customer service staff, and a wonderful experience. I'm a massive, massive fan. Hoping this company continues to expand and flourish! All the love xx

.All ok
All ok mmmmmmmmmmmmmmmmmmmmmmmmmmmmmmmmmmmmmmmmm Kkkkkkkkkkkkkkkkkkkkkkkkkkkkkkkkkkkkkkkkkkkkkkkkkkkkkkkkkkkkkkkkkkkkkkkkkkkkk

Liechtenstein

Fast service
Recieved very quickly but the shipping is very expensive to alternative companies. So not doable just for things you sort of want and like.

Australia