FORWARD YOUR PARCELS FROM
Online shopping from another part of the world might become mission impossible even nowadays if the stores do not ship to your country. In this case, forward2me has your back. Use our parcel forwarding service to reship all the goods you've bought from to your doorstep.
HOW THE PARCEL FORWARDING WORKS
Shopping abroad is now easier than ever with our parcel forwarding service. Once you register an account with us, you have the chance to shop from every online store in and then ship your goods to the address provided by forward2me. When your package is delivered to our warehouse, you can have it reshipped immediately to your home country or keep it in storage for up to 30 days for free. During this period, you can ship as many more packages as you'd like to your forward2me address and have them all sent as one parcel.
Combine and repack is a very popular and useful feature we offer to our customers. It helps you save money on fees and receive all your goods on the same day, so you don't have to free up your schedule for courier appointments. Once the parcel is dispatched from our depot, it will arrive within 1 - 4 days, but keep in mind that this is an average arrival time and it might take more days to receive your goods because of the courier company or other factors which are beyond our control.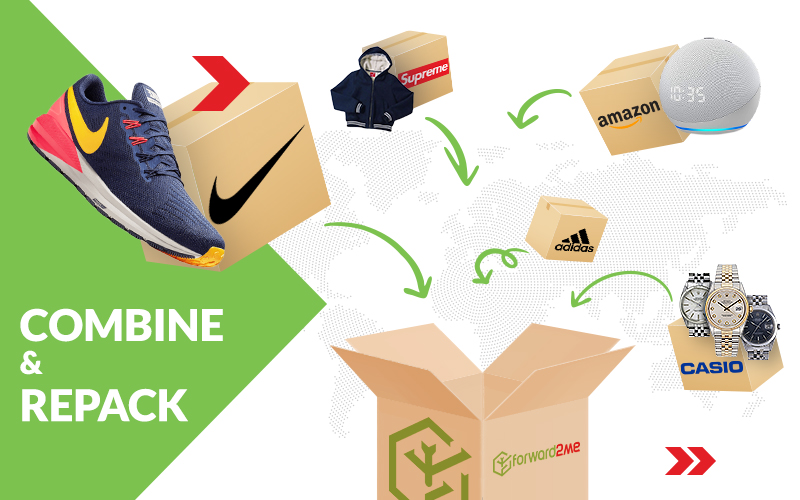 BENEFITS OF PACKAGE FORWARDING SERVICE
Your favorite brand doesn't ship to your country? Or the international package shipping rate is higher than what you can afford? There are infinite reasons why you can't buy the stuff you want from . Lucky for you, forward2me is here to help you. Take a look at some of the advantages of the service:
FREE shipping address - once you sign up, you get a shipping address completely for free to use worldwide. And guess what - there is no monthly fee for it.
Save money on shipping fees - international shipping costs might be quite expensive. Why pay extra when you can ship for free to your forward2me address and then reship to your country? In this case, you pay only one delivery fee.
Access to different online stores in - using a parcel forwarding service gives you the opportunity to shop from different online stores in .
DON'T JUST TAKE OUR WORD FOR IT
Highly Recommend!
I ordered 2 Mathmos Lava Lamps and used Forward2Me to ship to the USA. Extremely pleased with the repackaging and time to ship. Lamps arrived in perfect condition. I would definitely use Forward2Me again.

United States of America

Good experience
I was a little worried because I had never used a site like this before. But everything was delivered as expected. They had good communication and shipped relatively quickly. I will definitely use them again for the future

United States of America

As good as it gets
Ordered from a UK vendor who wouldn't ship to US so opened an account with forward2 me. It shipped from vendor on Thursday to Preston and got opened, inspected and reshipped FedEx express and was here in Los Angeles on Monday lunch time. 6,000 miles in 5 days total. They have an assortment of shipping options from cheap to expensive. Would use them again for sure.

Excellent customer support
I really appreciated the support received by Nica. Thank you very much.

Excellent service
Excellent service! Responsive. Quick. Great value.

United States of America

FedEx International Economy
Very satisfied!
Friendly, helpful staff. Always answer quickly and help to find a solution. Easy and fast!

Cyprus

Customer experience
Das mit dem Versand klappt prima versandpreis völlig in Ordnung nichts ist umsonst jederzeit gerne wieder

FedEx International Economy
Excellent service
Quick, efficient, good communication, reasonable prices

Luxembourg

Perfect!
Everything was perfect. Speedy and quality service! Definitely keep coming back.

United States of America

Exactly what I needed.
Everything arrived in a timely manner. Communication about where my parcel had been was always up to date. Rates were fair. 5/5 will be using forward2me for all my future forwarding needs.

United States of America