SHIPPING TO A FORWARD2ME UK ADDRESS
In this example we've selected a high end gaming laptop from Amazon.co.uk and will be shipping the device to our forward2me UK address. The laptop is priced at £968.16 and as we're shipping it to a UK address there is £193.16 of Value Added Tax (VAT) to pay bringing the total price to £1,161.79.
Value Added Tax (VAT) is a consumption tax designed to be paid by residents of a country or trade area. When a resident buys goods the government takes a slice of the sale price. Exports outside the areas are typically free of VAT.
In the case of a customer using a parcel forwarding service like forward2me, the goods are delivered to a mainland UK address and so VAT has to be paid even though the end customer might be in Australia or USA.
Our British VAT free warehouse now allows residents outside the EU to avoid this problem, so if you're outside the EU, we can help you save the 20% VAT.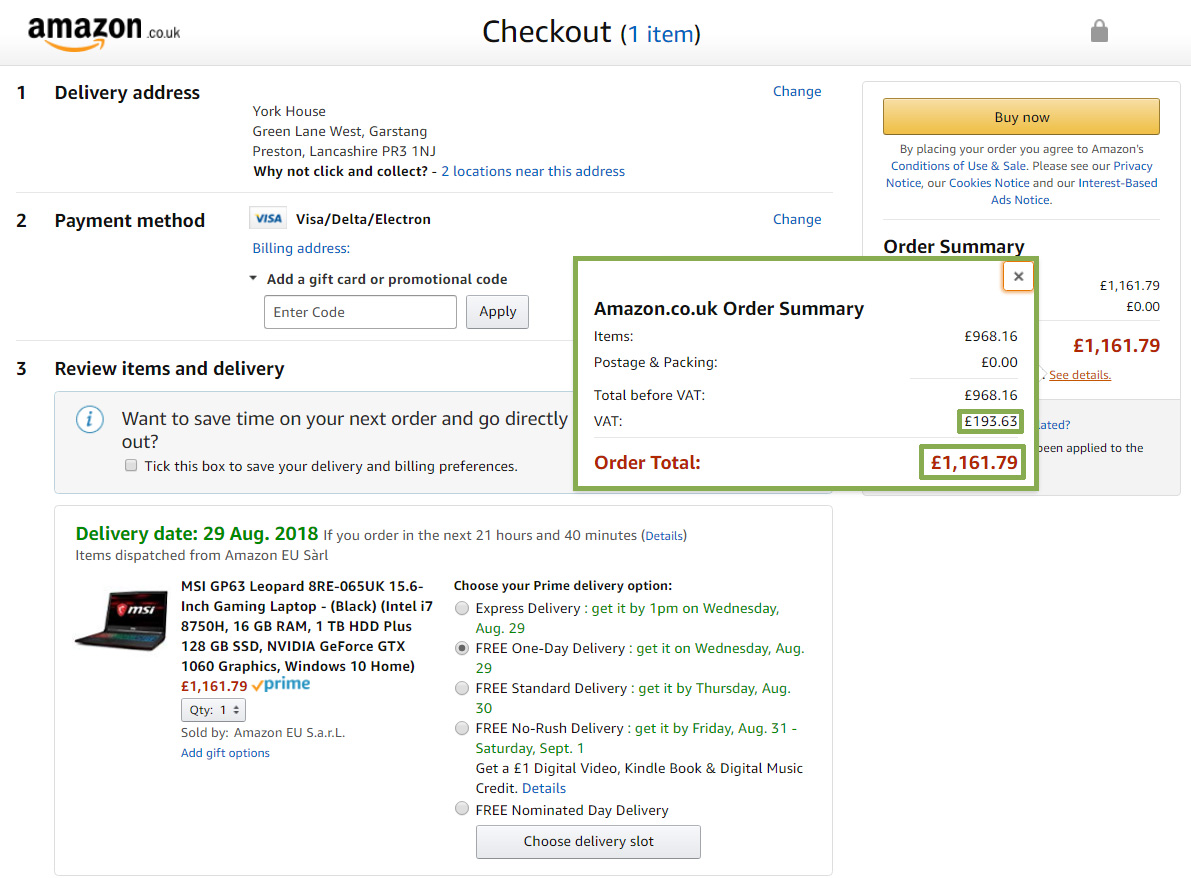 SHIPPING TO A FORWARD2ME TAX FREE ADDRESS
You can see we've selected the same high end gaming laptop from Amazon.co.uk but now we're shipping the device to our forward2me TAX FREE address in Guernsey. The laptop is priced at £968.16 and as we're shipping it to our Guernsey address there is ZERO VAT to pay, reducing the total price from £1,161.79 to £968.16, saving you £193.16.
Guernsey is an English-speaking island located in the English Channel between France and Great Britain. It is not part of the United Kingdom or a member of the European Union, instead it is a self-governing Crown Dependency, treated as part of the European Community with access to the single market for the purposes of free trade in goods.
In practice, Guernsey uses UK postcodes and many UK retailer's deliver to the island on the same terms as mainland UK. Significantly, Guernsey has no VAT or GST. This means if a UK retailer ships to Guernsey they should not be charging VAT – i.e. the goods are 20% less. Amazon ship to Guernsey and will drop the VAT when you enter a Guernsey delivery address. Many large retailers are aware of this but many or not – especially smaller retailers.
If a retailer is trying to charge VAT for a Guernsey delivery, just send them a polite note explaining the goods are being delivered to Guernsey and VAT does not apply. Here is a template you might send.