Trendy Tweed?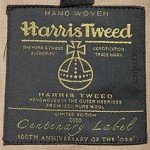 Oh yes indeed. Bizarre though it may seem, that woolly, indestructible stuff called tweed is no longer reserved for indomitable old ladies, '
hunting, shooting, fishing
' folks, or dusty geography teachers.
Far from it
. These days you are much more likely to see it sported by A-list celebrities such as Benedict Cumberbatch or even rappers such as Tinie Tempah.
Like
Sherlock Holmes
, we were intrigued to know why this is. We decided to investigate with the same level of efficiency as the
forward2me door to door tracked service
. Did you know that Harris tweed is all hand-woven using treadle looms by crofters in the Outer Hebrides of Scotland?
It's one of the last remaining cottage industries and up until recently was in serious decline with fewer than 100 weavers left. Worried that this ancient craft and valuable industry could be lost forever, moves were made to promote the beauty, durability and versatility of the tweed fabric.
Our research also led us to some very happy retail discoveries. There are some beautiful clothes and accessories out there and the sales are still on! With our
secure international shipping
, you can purchase tweed from top-end designers and retailers such as
Harvey Nichols
,
Mulberry
and
Hugo Boss
. We particularly liked the designs at
LibertyFreedom
- beautiful jackets and skirts.
John Lewis
and
Topman
are also stocking tweed at the affordable end of the market. Wallets,
bags
, boots and shoes are all getting the tweed treatment – even trainers. If you fancy adding a touch of class to your interior, tweed cushion covers are 'in' too, available from
folksy
or the
Hebridean Store
. Use
our UK parcel forwarding service
to get the latest look for your home.
If you're worried that tweed is just a fad and that if you buy now it'll be out of fashion next season, think again. The use of tweed marks a change in the fashion industry towards fabrics that are historic, durable and much more sustainable. You can buy tweed with a clear conscience – it's a natural fibre, dyed and woven using traditional techniques and is keeping a small, remote community alive.
The
Harris Tweed Authority
has a directory that lists many retailers, designers and craftspeople who use tweed including
Marks and Spencers
and of course,
Harrods
. Tweed will be around for many years to come. Remember to use
forward2me
if you need a
UK parcel forwarding address
when you invest in some modern classics made of tweed.