Spring and Autumn fashion 2013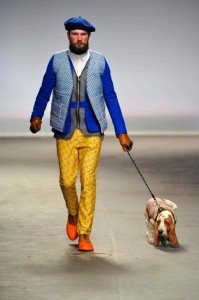 Spring fashion often passes us by here in the UK. Winter usually drifts into a long, cool, windy, rainy season then back into winter again - with a tantalising day or two when everybody scrabbles frantically at the back of the wardrobe for something slightly less woolly. Here at
forward2me
,we can only dream of wearing the fresh, floaty spring dresses you've ordered online to be shipped out using our
door to door tracked service
so that you can be elegant in spring. Put the violin
down
...
We do enjoy having a look at the latest trends though. I've had a look at what I'd be wearing if, like you, I'd chosen to live somewhere warmer and probably more glamorous (round here, not wearing slippers to the corner shop is what passes for the height of sophistication). 'So what's new? Tell us more,' I hear you cry.
Hmmm. Well. I've had a look and I'm none the wiser. Almost anything seems to go. Stripes are everywhere. Animal prints, particularly leopard in black and white or grey, paisley patterns in bright, swirling colours, floral prints of chrysanthemums and evening wear with a heavy Egyptian influence stood out. Nothing I could walk the dog in though, apart from some rather natty outfits for the actual dog, of course.
So where to get the 'look'?
Zara
has dresses with stripes, paisley prints and blocks of colour.
Hobbs
has some classic pieces using animal prints in their spring collection.
Selfridges
and
John Lewis
have many designers to choose from and have themes called pastel, stripes and botanical. Animal prints and contrast dresses are prevalent.
M&S
have animal prints, stripes and a hint of Egyptian style in their blouses.
Tweed
is still in and is used as a contrast with floral prints. Shop online and use our
secure international shipping
to stay ahead of the crowd.
I feel like I'm leaving the men out a bit here. So here goes... According to GQ magazine, the suit should be plain and the tie should be floral. Pastel/chalky colours are in as is pale grey. Loafers are this year's shoe of choice and panama hats are big too. Vogue, though, seem to say the opposite. Bright colours, particularly electric blues, are in and textures should be very fine. There seemed to be a silky theme too. Ho hum. Wear what you like, guys...
For inspiration check out
TopMan
,
H&M
or
ASOS
for styles.
House of Fraser
also have a good range of menswear from top designers. With a
UK parcel forwarding address
, you can be as cool as a cucumber this spring.
Or even autumn... If you're in the southern hemisphere, the women's fashion is for 'shaggy' woollens, tweed, sexy trench coats from
Burberry
, tartan and punk with hints of medieval in jewellery. There were a lot of shiny clothes on the catwalk too – metallic skirts, bronze handbags and belts in gold. Enormous coats will be big (you know what I mean). Check out the blog about
Burberry and London Fashion week
for autumn trends.
Men's autumn fashion consists of tweed, tartan, Fair Isle – Scottish fabrics are very popular at the moment - along with bright colours including eggshell blue and shades of 'camel, ochre, mustard' (all orangy brown?) according to the Huffington Post. So there you go.
Fashion a la
forward2me
. You can't go wrong!