New Nexus Available for Pre-Order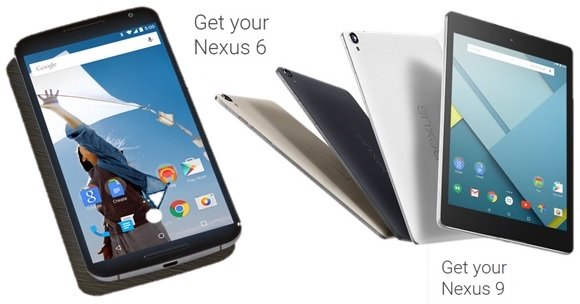 With Christmas just around the corner, new Nexus 6 and 9 have been released by Google. Now, here at forward2me, we love a new tech release so we've ogled Googled the new shiny things so that we can tell you a bit more about them.
Nexus 6
If you think it looks sweet, that's because it runs on lollipops! It prefers them to jellybeans...Actually, the latest version of Android is Lollipop. It also has a Snapdragon 805 quad-core processor. This means it should be faster and cleverer than the Nexus 5. Don't plant it in the garden though. Not that kind of snapdragon... It comes with either 32 or 64 gigglybobs of memory. More than me, that's for sure.
The Nexus 6 looks stunning. The first thing that strikes you is the screen size, a full 6 inches that stretches almost to the edges of the multi-tasking slender box of wonder device. It has a 13 mega-pixel, image stabilising, HDR+ camera, as well as a selfie-snapping 2 mega-pixel one on the rear.
The other features of the Nexus 6 that sound useful are the battery life and the quick charging function - 15 minutes will, apparently get you another 6 hours of use and fully charged, it should last you at least 24 hours. It has dual front-facing speakers - good for games. Although it doesn't mention it, the Nexus 6 is probably quite good at letting you talk to people. It's a phone! You can pre-order it online then use our door-to-door tracked international delivery service to bring it to your door.
Nexus 9
Nope, it's not just an up-side-down Nexus 6. The Nexus 9 is a small tablet. It's also partial to the odd lollipop, has all the features you would expect from a small tablet really, although mainly at a slightly lower spec than the Nexus 6 phone. The camera has 8 mega-pixels and it comes with either 16 or 32 meg of memory. With a choice of 3 colours - black, white and beige/gold, it looks like a useful, light and functional tablet. A keyboard is sold separately if, unfortunately, you really must do proper work on it at some point.
Both are available to buy/pre-order on Google's website. If you have any problems, just contact our customer services department. Soon you'll be holding lollipops to your ear and swiping at the snapdragons if you use our fast international shipping.