Love is in the air for Valentines Day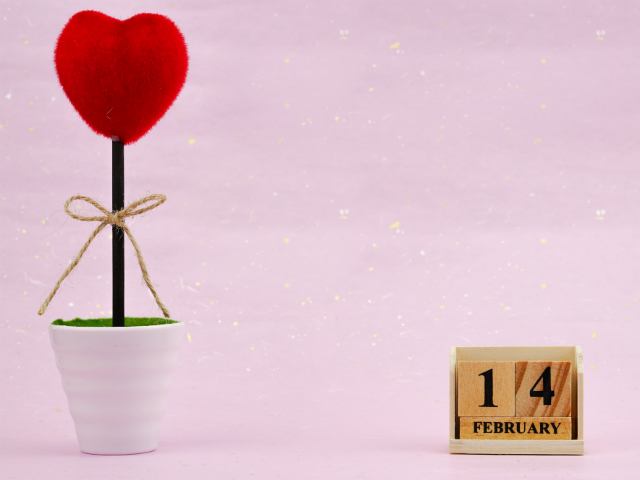 Celebrated every year on 14 February, Valentine's Day is a tradition that's known and loved around the world. For many of us, it's a chance to show the people close to us how much we love them by sending a card or giving a gift. But what do we know about the history of St Valentine and Valentine's Day?
St Valentine was a priest in Rome in the third century AD. Although there are numerous theories about the actions that led to the 14th February taking his name, the popular belief is that St Valentine rebelled against the church, which at the time had banned marriage, conducting marriages in secret. When found out, St Valentine was imprisoned and sentenced to death and upon the day he was to be executed, sent a letter to the jailer's daughter, whom he had fallen in love with, signed 'from your Valentine'.
It is thought that the first 'Valentine's Day' took place in the year 496.
Now we're up to speed with the history of Valentine's Day, it's time to look forward to this year's celebration. Aside from the usual cards, flowers and chocolates, what else is available to buy to show your loved one how much you care? Here are some ideas…
For her…
There are always plenty of options for Valentine's gifts for the girls and this year is no different. Jewellery is always a favourite and there are some gorgeous pieces around. For something that's timelessly elegant, visit Tiffany for pieces such as this circle pendant or mini heart tag earrings. Rose gold is bang on trend and this linked ring necklace in plated rose gold allows you to add yours and your loved one's names for the ultimate romantic gift.
Staying on the theme of personalisation, we also love the other personalised gifts that are available at the moment . Items such as this jewellery box can be engraved with a special message, or this marble effect notebook can be personalised with both a name and an initial. This silver plated rose, that can also be personalised, is a great alternative to the usual flowers. A word of warning – anything personalised will have a slightly longer processing time than off the shelf products so be sure to allow plenty of time.
For him…
Men are often notoriously considered difficult to buy for! But there are some really unique and interesting ideas around this year.
This pair of photo upload mugs will bring a bit of fun to Valentine's morning, as will these Valentine's scratch cards. For something a bit more sentimental, this photo upload cushion can commemorate one of favourite times together. This keyring not only holds a photo but can also be engraved and this personalised book lets you really show how much the man in your life means to you. We also love this handy men's wooden organiser, this personalised wooden spoon and as a final recommendation, for the man who has everything - how about a romantic message in a bottle?
Whatever you choose and however you celebrate, we hope you have a good one!